Is your tin foil hat strapped on tight? Do you think that jet fuel can't melt steel beams? Are you pretty sure Frank from marketing isn't washing his hands before he heads back to work from the crapper? Then you might be into some conspiracies for cube!
Conspiracies have been out for a bit now and there's a theory going around on the interweb that they kick ass and are a lot of fun to play with. Not everyone thinks this—that's the conspiracy part! Spookyyyy!!!—but you're not reading an article by one of those suckas. I love conspiracies and think they add a welcome wrinkle to drafting and playing your cube. Today I'd like to look at some of these conspiracies and figure out if Brago is a real person or if he's just a figment of our imaginations! Uh…spooookierrrr!!!!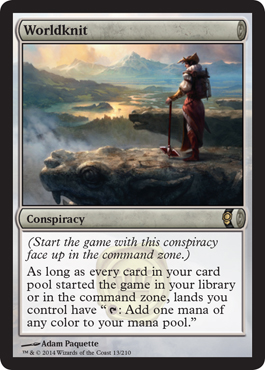 Worldknit: Nothing sucks more in magic than when you lose to your lands. Whether you draw the wrong colors, they come into play tapped too often, or you draw too many/few, it is never fun to look at your hand that could be doing awesome things and not be able to do any of those awesome things because your current lands suck. It's awful! Too often has my greedy self kept a hand with two off-color lands and been punished, or one land on the draw and never drawn one after. The hand would be so good if I only drew one land!, I'd say, and then it's onto the next game and I'm down 1-0 or whatever.
Worldknit is never going to make your one-land hands sprout roots and grow, but it will turn those awkward mana bases into fluid machines where you cast what you can when you can, not when your lands can. It truly is such a joy to not have to worry about having certain symbols open and to just cast your spells when they are available to you. Awkward decks that try to have both Cryptic Command and Wrath of God available by t4 are hard to construct unless you focus on taking certain lands. With Worldknit, you can curve from Coralhelm Commander to Geralf's Messenger to Cryptic Command to Garruk, Primal Huntbeast and only have to worry about getting to land #5. This leaves you so much room for creativity, giving you the options to build pretty much any deck you want.
Do you like aggro decks? Then pick everything that costs 3 or less that attacks for 2 along with all the reach you can get. Want the old-fashioned planeswalkers super friends deck? Then clear some seats for your pals, they will all fit! Looking for the ultimate control deck? Don't worry about playing all those counters, just avoid Daze if you can. The options are limitless because your picks are not constrained. You choose what you want and take the best card for your deck out of every pack.
Most packs will have something for you, but you will reach a point where you're taking a piece of trash. This is the biggest weakness of Worldknit, being forced to take and play these terrible cards for your deck because you can't afford to try to make a 40 card deck out of the otherwise-pile of a deck you drafted. You can't choose your last picks, and to a point you're picking the lesser of few evils in the final picks. Those cards are real, and they really suck if you can't afford to play them at any point of a game. Guess what you're drawing turn 5 with that control deck? You're right, it's Elite Vanguard, and he's here to suck. To me, this is the biggest problem with Worldknit, and it's kind of an obvious one but it's hard to understand how much of an impact it can have until you find yourself in those situations where you can't afford to draw those terrible wheels and last picks and they show up regardless.
One final note: typically the percentage I go for is .58 for lands in my deck., or 58% of my non-aggro decks are spells. 23/40= .575, so I round up. to .58 or .59 as I feel it's better to have 1 or 2 extra potential lands in a deck so large.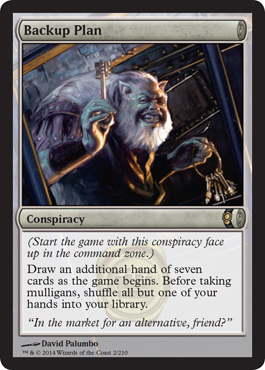 Backup Plan: The best of the conspiracies, hands-down. Even worse than having your lands suck ass, it really sucks ass to mulligan into oblivion or to throw away a borderline-keepable hand only for the next one to be worst. Your games are over well before the game has begun, and with 4 or 5 cards in your opener it's extremely tough to beat anyone doing almost anything. Mulligans are essential to magic, but they have a strong negative connotation. New players have a hard time figuring out when to mulligan, and even if you do know it can still feel like you're giving the game away by playing with less cards before you have a chance.
Backup Plan gives mulligans the middle finger and you an extra hand. That extra hand is so huge in so many decks. Aggro decks always find the opener with the most potential damage. Combo decks find one, two, or both pieces they need to crush. And mulligans largely go bye-bye when you easily pitch the unkeepable hand and almost always have a grip that is ready to whip some ass. It's not like mulliganing never happens with Backup Plan—it is possible to be the unluckiest man on earth—but it is rare, as one half of the top 14 cards on your deck should have a good enough mixture of spells to lands to keep.
I would say Backup Plan is so strong that it is probably a lowered-tiered power card. I wouldn't take it over Sol Ring or Lotus or anything of that level, but maybe in a 3rd pack I'd take it over an off-color moxen or maybe even something like Mana Vault. I would almost definitely take it over a sword, and probably over something like Mana Vault. There just isn't a deck I'd draft that wouldn't want the ability to almost never have to mulligan.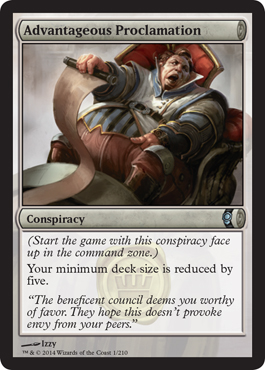 Advantageous Proclamation: In most limited decks, Proclamation is pretty amazing since your 20th-23rd cards aren't always the best and you'd be OK not maindecking them as is. Cube is in that funny spot where you are typically looking to cut cards from your maindeck always. If you're not trying to trim down to 23 cards you either spent many picks on fixing and lands and you're playing closer to 45 than 23 of your draft picks, or your decks sucks ass. I'll sometimes play 41 cards like a fool because I can't find a cut for the life of me and hope I don't get mana screwed. Having to cut another 3 from that deck can be a laborious process that your opponent can't wait for to be done. We do have personal lives, y'know, we can't just wait all night for someone to make their final cuts!
I am not saying this is a bad thing, but moreso it's more likely that a cube deck will be just as fluid with 40 cards than it will with 35. With the proverbial gun to your head you can find those last 2 or 3 cuts, and your deck will perform better with less cards, but with most decks you won't notice a fat-trim since you're cutting stellar cards. Proclamation works best in the decks that rely on specific cards to win the game, or the pretty bad decks that have outliers but not an overall amazing roster. Combo decks love advantageous proclamation because it's 5 less cards that get in the way of your main gas. Finding that Tendrils of Agony or the fatty you need for your Sneak Attack is much easier when there are less blanks to draw into. Other decks will reap these rewards too, but in something like an aggro deck is having that 1 or 2 less fillers in the curve really making a difference? Is your deck performing that much better without having that Elite Vanguard and something else? Probably, but probably not enough for you to notice a difference since Vanguard performs the same function as a lot of the same cards.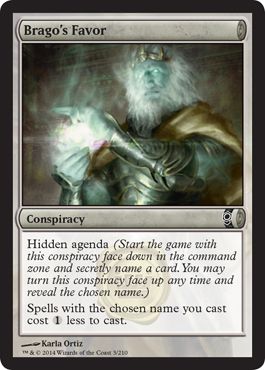 Brago's Favor: Cards cost what they cost generally because that's what they were deemed to be the best at. Because of this good cards are the ones that are cheaper than the norm and the bad ones are obviously the opposite; this seems like an obvious statement, but you'll notice that in card ratings that this principal rings true across the board. Cube is a weird place where all the cards are good, and all the creatures you can run probably offer more than most of their peers can at those spots on the curve. No one is asking for Dark Confidant to cost 1 less because he is already insane at 1B, and the same goes for cards like Jace, the Mindsculptor, Oblivion Ring, whatever.
No one told Brago this, and he's doing us a huge favor by making that one card cost 1 less. When I was a less experienced player, I seriously undervalued the difference 1 mana can make in a cost, but 1 mana is a lot less than 2, and 2 is a lot less than 3, and exponentially these numbers rise as you go down the curve. Just think how often you've been stuck on 5 lands trying to get to 6, how painful each non-land top deck was as you waited to cast that 6 drop. With our ol' pal Brago, the already-undercosted cards cost less, and even more broken things can happen.
For example, the other day I drafted a (admittedly garbage) abzan aggro deck during a winston draft. I really wanted to play 16 lands because almost all my spells cost 2 or less except about 5 or 6 of them, and only 2 costed 4 or more. I still felt pretty crummy going pure 16 though because I wanted to curve top with Plow Under and never have it sitting in my hand. Brago's Favor solved this problem by dropping the cost by 1, and soon after I had a fluid-albeit-sucky aggro deck ready to play 24 spells. This is just one case where Brago did me a huge favor, but you can imagine how else it could be amazing.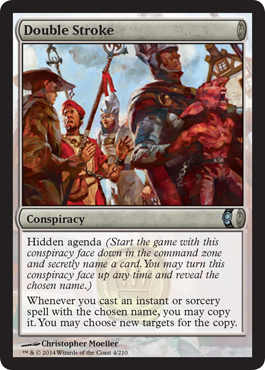 Double Stroke: Rebound is a pretty excellent mechanic, as getting two copies of your spells on one card gains you tremendous value. Games of magic are won off of card advantage, where you end up on top because you're the last many standing with cards in hand and relevant permanents on board. Double Stroke is like giving any of your cards rebound, except instantaneously. For a lot of instants and sorceries, this is incredible. There are some pretty obvious ones that are incredible. Ancestral Recall, Timewalk…you can see pretty quickly how drawing 6 cards for U or taking two turns for 1U is super broken, even for super broken cards.
The buck does not stop there though. How about 2 Swords to Plowshares? Maybe double lightning bolt? Cryptic Command is a gross card to double, you ever see a Cryptic Command go for all 4 modes? Other than counter spells and some corner cases, there are few instants and sorceries that are mostly terrible when doubled. There are times when some removal won't have two good targets, but that is partially irrelevant since the copying of the spell is a may clause. At the cost of a draft pick, you're giving yourself an extra card without actually adding an extra card to your deck.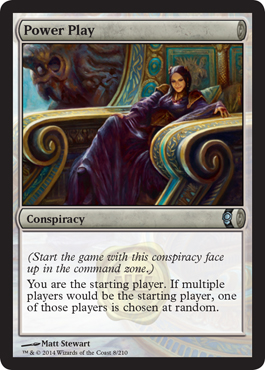 Power Play: There are few match ups where going on the draw is the correct choice. Even in a heavy control vs heavy control mirror, it's likely that untapping first could definitely be better than the extra card since the control decks all tend to have top-tier removal in their roster. So with that as an example as an extreme case where it's most likely to see someone to choose the draw, it is safe to assume that it is beneficial to go on the play in almost all match ups. Cube is full of lock-down cards, spells which make it nearly impossible if not improbable for an opponent to come back from once cast. Being able to ensure that you are the first one at any point of the curve to cast the spells at those spots on the curve is incredibly strong.
Power Play is great as a 'defensive' spell too. Aggro decks feast on control; it is clear and apparent how awesome Power Play is in those aggro decks as the aggro decks that curve out going from 1-3/4 are always in a dominant position when they get to go first and have that 2 power one drop ready to attack for turn 2. On the inverse, there are decks that have all the early turn answers to whatever is being played turns 1-3/4 by that aggro deck, and making sure that the aggro deck 1) faces those answers every game, and 2) can never be at the clear advantage of going first is massive. This is less of a concern in slower or multiplayer cubes, but I imagine in those environments it's still beneficial to potentially have that first turn.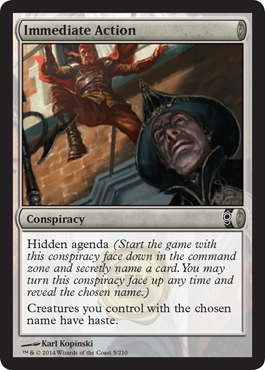 Immediate Action: Baneslayer Angel is a commonly-run cube card and is pretty great once you get to untap, as she fares well in combat and helps your life total go from the red to the black fast. Unfortunately for Baneslayer, she really sucks when your opponent has Doom Blade or some piece of removal that leaves you with nothing but 5 spent mana. Immediate Action lets you at least try to enter your combat zone once with your slow-bros (and bro-ettes, tyvm Baneslayer Angel) and works with all sorts of strategies.
The first thing that many cubers think with this card is how much it helps with aggro decks. There are almost zero non-red creatures with haste that are cubeable, and even in red there are only so many options. Goblin Guide is considered one of the best red aggro creatures almost solely because he's a 2/2 for R with haste, even though he could potentially give your opponent half a grip's worth of cards over the course of a game. Clearly if Goblin Guide is good for that reason, a card with no other drawbacks otherwise, such as an Isamaru, is so much better with haste. The haste also gives non-red aggro decks a quicker point of attack, as those decks often suffer from lacking reach without the burn or hastey creatures. A one drop that can attack immediately is kind of like having an extra spell or two from those decks, as they are not used to hitting the face as early as the first turn.
Haste on any creature is not exclusively good in aggro, as attacking with your creatures right away is great. Your reanimator targets like Griselbrand or any Titan are now getting that important first hit in before your opponent can have a chance to remove them. Facing down a planeswalker can be easier when your threats don't allow them to make another activation or two, moreso with evasive creatures like fliers or cards like True Name Nemesis. (Trick answer: there are no cards like TNN.) Cube is such a fast environment, with games being locked down over the course of one turn versus many and shutdown cards clasping down on a game before your opponent can play their broken spells, so making all your creatures fast is really nice.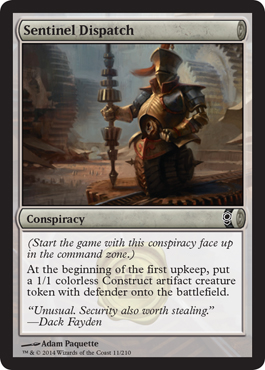 Sentinel Dispatch: It feels kind of bad taking up a cube spot running this card, but after playing with it for a bit, Sentinel Dispatch is not the worst and perfectly passable. If anything it speaks to the power of conspiracies in general, as even the worst ones that are still functional in a cube environment are main deckable because they don't take the spot of a real card and will always make the final deck. Except in rare, narrow cases like the creatureless deck that runs Balance, there is no harm in running a 1/1 defender that you have turn 0, except that there's probably a better card you could be running. And if you are running Goblin Welder/Daretti/Tinker, you now have a new best friend, or at least a good acquaintance.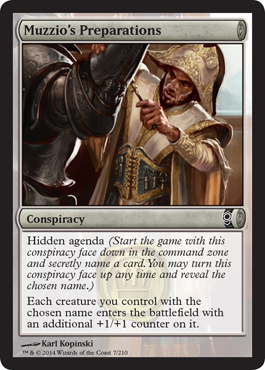 Muzzio's Preparations: If this lands on a persist creature, prepare to be destroyed, as it is really tough to get out of a persist lock with this card. Beyond bounce and exiling, you really can't get rid of a persist creature named by Muzzio's Preparations, and that can be a mega problem. With cards like Kitchen Finks, Murderous Redcap, and Glen Elendra Archmage, killing the creatures with spells or in combat is almost never profitable. Thankfully for opponents everywhere there are not that many great infinite-sac outlets (sorry, Greater Gargadon, but you end eventually), though Goblin Bombardment is played in some lists and will infinitely kill with any of the persist dudes.
You do not need a broken creature for a free +1+1 counter to be good. Like with Immediate Action, any aggro deck would love to apply 1 more point of damage on each swing as you are trying to win as soon as possible. Reducing your clock by 1 or 2 turns is huge and potentially game clinching. The other day Sky had a Goblin Guide that came in with a +1+1 counter, meaning that from turn one going forward he had an extra point of damage slapping face, dealing an extra 3-5 damage a game. Really any deck with a creature will be happy giving it that bump, as it helps the creature avoid previously-lethal burn or –x-x effects like Dismember or the new Languish.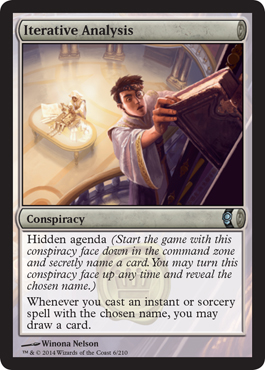 Iterative Analysis: Drawing cards is nice. Drawing more cards is nicer. Drawing cards when you shouldn't be…well, it's not necessarily nicer, but it's still very nice. There are just few parts about drawing cards that doesn't appeal to me. Whether it's a card that normally wouldn't turning into a cantrip, or a draw spell going from baseline cubeable to really-friggin-good, I enjoy that extra card that Iterative Analysis gives. Aggro decks want more free gas, mid range nexts need to find that removal or creature, and control is always looking to dig. Iterative Analysis is a powerful card that guarantees you are always replacing the card it is matched with since you don't need resolution for the card, just commencement.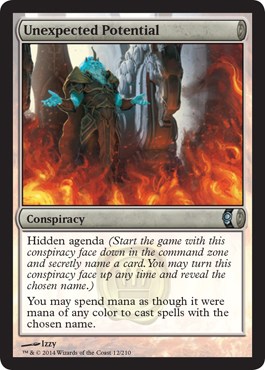 Unexpected Potential: Your non-red aggro deck has no reach. Your control deck has no finisher. Your mid range deck…could be more midrangey. Cube is full of goodies, but sometimes the goodies are gum-dropped and you are left one sort. Or sometimes that p1p1 won't make it into your deck because you were passed a different color and your Jace or Garruk is now sitting in your sideboard. Well, screw that, you're playing them! Unexpected Potential is like a mini Worldknit or a bigger Secrets of Paradise, except the decks are typically more fine-tune than Worldknit decks and you're casting a spell which is probably pretty insane in your deck, instead of just casting what is in your deck.
Even boring unexpected potentials are exciting. Playing one more one drop in your aggro deck is amazing, and even better when you can always cast that one drop when you need to. In planeswalker super friends you can play those random planeswalkers you picked up early on a lark. Combo decks can now play Tendrils of Agony even if you somehow aren't black but still playing combo. (UG Heartbeat or UR Wheel of Fortune combo decks, here here!) And like the card title says, no one is going to be able to predict your play since you will probably never have it for the needed casting cost. Unexpected Potential is fine when you want to play difficult cards in appropriate decks, like Geralf's Messenger in a BW deck or Vorapede in a GW deck that leans closer to white. Overall, the card is excellent.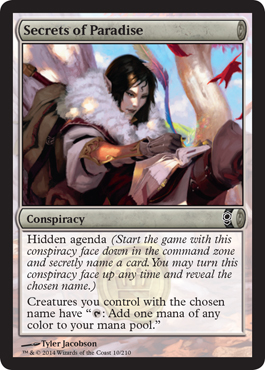 Secrets of Paradise: I admittedly have not played this, and while I don't think it's the worst of the cubeable conspiracies, it's easily at or near the bottom. As always it's playable and since it's a hidden agenda you can hide counters or misrepresent how much mana you really have available, which is cool if your opponent is playing around Force Spike and you have Mana Leak or any situation like that. I don't know if I would add Secrets of Paradise to my own cube, but I would really need to see it in action before determining how useful giving any creature the Birds of Paradise ability would be.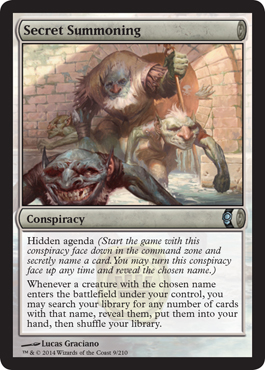 Secret Summoning: The secret: this is not a cube card.
Another secret: thanks for reading! SECRETS OUT!